We've been talking to engineering leads over the last year to learn to learn how they use open source, and how it affects their team velocity.
The more code you have, the more slowly your team moves. We've all been there. Faced with a business problem, you start to build software. As the code grows, you spend more and more of your team's capacity maintaining code you already have.
You're already outsourcing whatever you can, but some code can't be a service. SaaS takes software off your plate and puts it in the hands of a vendor, but it's tough to do this with a JSON parser, an ORM, or a web framework. That's when you pull open source packages into your application, "outsourcing" the initial development of reusable components and libraries. Without open source packages you'd spend the first two years of every project reinventing wheels.
Many assume that widely used open source software always gets maintained somehow. Nothing could be further from the truth; it's become an industry crisis. The Ford Foundation report Roads & Bridges did a lot to raise awareness, but we're reminded daily by crises like the recent hack of event-stream.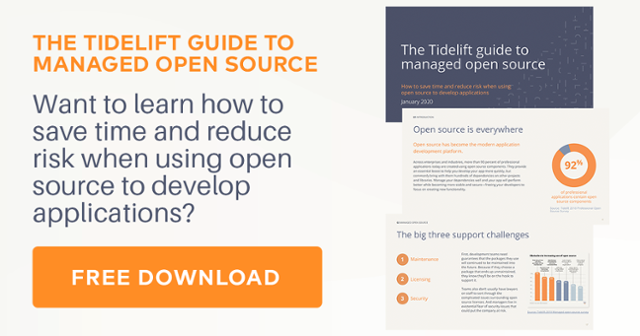 ---
Open source dependencies are part of your code, and code needs maintenance time.
Time for staying up to date with the latest bugfix versions.
Time for porting to new, incompatible major versions of frameworks—when the upstream project has no bandwidth to support old releases.
Time to cope when package maintainers disappear: you get to waste your team's time porting to a replacement package (best case) or risk a nasty trojan (worst case).
Time to handle requests from your legal department to list every package you're using, along with their licenses.
Time to document everything you use for your security team, and address live vulnerabilities.
---